10 June 2010
#ourfriendshipendedwhen
Posted by Roland under: Internet; Personal .
I was quite amused to see what was trending as #1 worldwide on Twitter this morning. Obviously, it's very poignant to recent events in my life, but the fact that it was #1 in the world is quite a feat, no? Are these many people all over the world reminiscing about lost friendships? If you think about it, it's quite impressive. It beat out such topics as the oil spill in the Gulf, a variety of World Cup related topics (it's the World Cup, you think it would get higher), the Stanley Cup (I'm sure that's big news in the Chicago world) and even Google attempt to introduce background images to their search page (like Bing).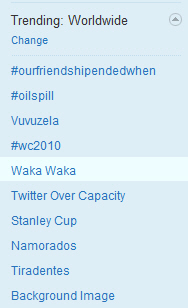 So next week, stay tuned for more Twitter trends related to events in my life, such as #whydidieatthatoldfish and #avoidingbeinghitbycars.
Leave a Reply